FrontierStudio.com
featuring
the music of hit songwriter
Keith Hinton
<![if !vml]>
<![endif]> A chart topping songwriter on the Nashville music scene for over 20 years, with songs recorded by artists including:
LeAnn Rimes with the #1 hit "One Way Ticket (Because I Can)", Billy Ray Cyrus with "In the Heart of a Woman" (also #1), and Toby Keith with "A Little Less Talk (and a Lot More Action)"--(#1 again).
This site is a showcase for songs and performances from Keith and his friends. His experiences on Nashville's "Music Row" are collected here in selections from his catalogs at Universal Music Group, Warner Chappell Music, Global Nomad Music, and his new catalog, Sure Feel Music.
Contact him at khinton@frontierstudio.com for artist pitches.
<![if !vml]>
<![endif]>
Keith has released a new CD,
=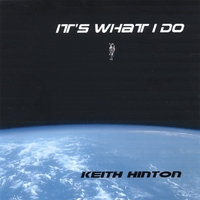 featuring the title track, "It's What I Do".
Available at CDBaby.com
or you can download a song or three at ITUNES
To listen to more songs from his catalog,

Visit Keith's streaming websites at
and
and
and be sure to check out some of Keith's Friends performing on the
FrontierStudio.com
....It has been my privilege to work with some of the finest writers in contemporary music. These Recording Artists put their heart and soul into every phrase they compose. These songs are lived. These characters are friends of mine.
Hope you enjoy meeting them...
Keith
Links
Nashville Songwriter's Association International
Words and Music Copyright administration
MyHitOnline.com A&R Tip sheet for Music Publishers and Songwriters'
and...
Check out some more friends of mine
Bluesy folk songstress from Denver
Award winning singer/songwriter
A new face from the west coast
Sweet Soulful Country Rock
These ladies will rock your world
Grammy Winning Producer/Engineer
Independent artist with a lot to say about just about everything
An incredibly talented producer/engineer/studio designer with a great story
GLOBAL NOMAD MUSIC
ASCAP
is administered by
and